Hays Recruitment - Jobseeker journey
---
Client: Hays Recruitment
Date: September 2020
Title: Senior UX Designer
Hays jobseeker journeys began with a search of open roles followed by a path to apply for a particular role. Hays began encouraging users several years ago to apply as a guest rather than creating or logging into their accounts in an attempt to increase job applications. Visually this was the most obvious path and consequently few applications were made by logged in users and new account creation had become almost non-existent. In addition, many users who had accounts with their current CV uploaded continued to re-upload their CV for every application when applying as a guest.
Research I performed with Hays' recruitment consultants, as well as deep dives into applicant placement statistics, revealed that the quality of applicants was often not as high when the applications were made as guests.
As a business Hays was less concerned with the number of applications made in one session as the goal was to communicate with the jobseeker directly and/or to be aware when a user already in their database was on the market for a new role. This fact made it even more desirable that users applied for roles while logged into their accounts.
In addition, I created drives within the company to begin the process of personalisation within their digital estate. Hays has a large repository of high-quality content but no way to serve relevant content to the user within their funnels. All visitors to Hays sites were served the same call outs to content. There was little to engage the user post job application in order to promote the Hays brand as a knowledge leader/subject expert, an image they wanted to nurture.
The business needed to learn as much as possible about each user to facilitate the personalisation of content and job recommendations. Much of this data was collected personally by recruitment consultants but the quality of the data was inconsistent and what standards were in place were often not adhered to. Consequently, I suggested that Hays begin collecting information from its logged-in users digitally post job applications when they are most engaged and interested in improving their employment search.
The post-application journey was engaged to encourage the user to create accounts if they did not currently have one, log into their account if they had not already and to supply Hays with more information about the kind of roles they were currently interested in and ultimately the path they would like their career to take.
Process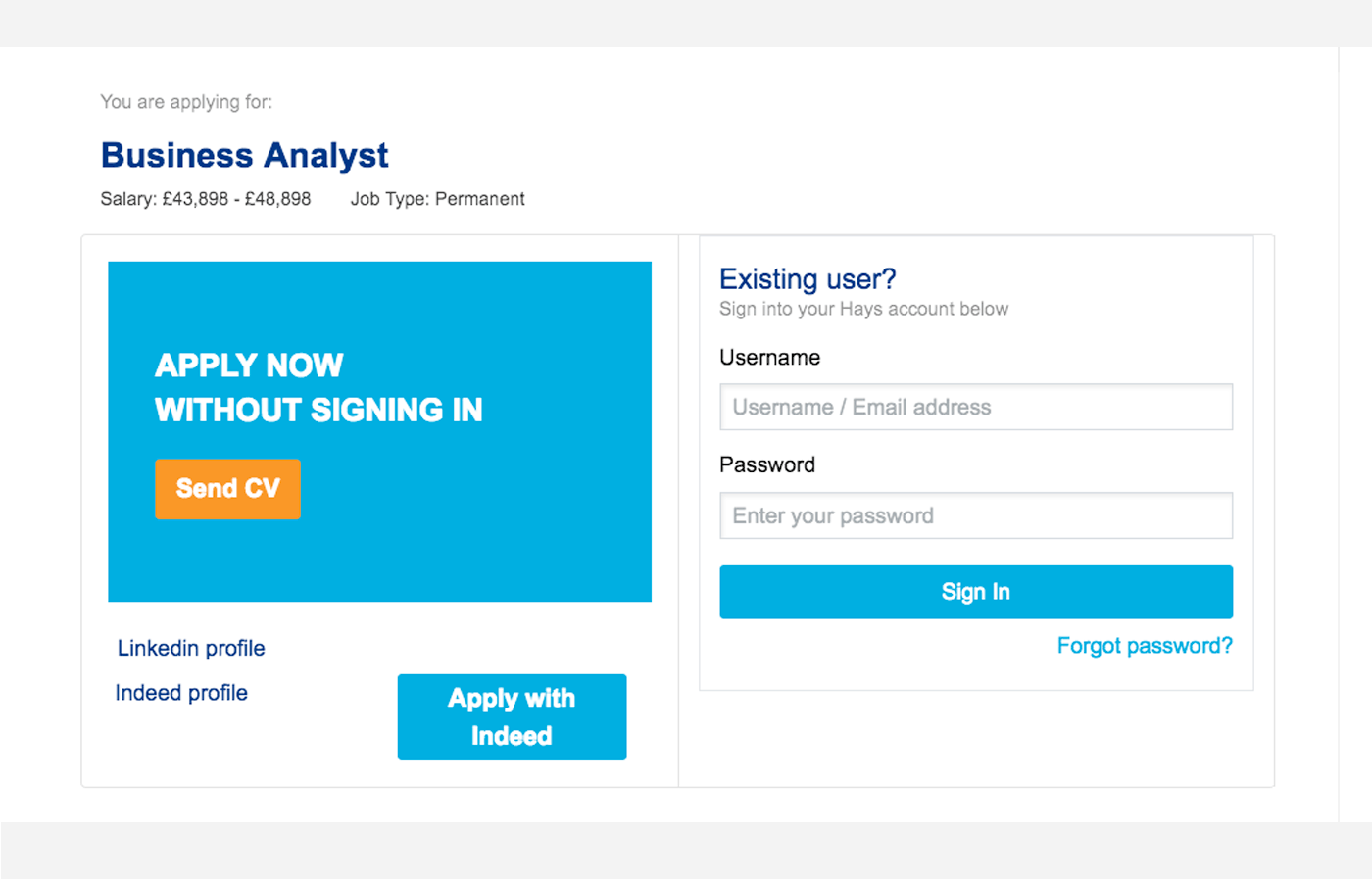 Users where visually encouraged to continue the job application journey as a guest.
There was little to engage a user after completing the job application journey. No personalisation was in place.
The application start journey was redesigned to downplay the guest application and to encourage users with accounts to login. The "remember me" function was also added.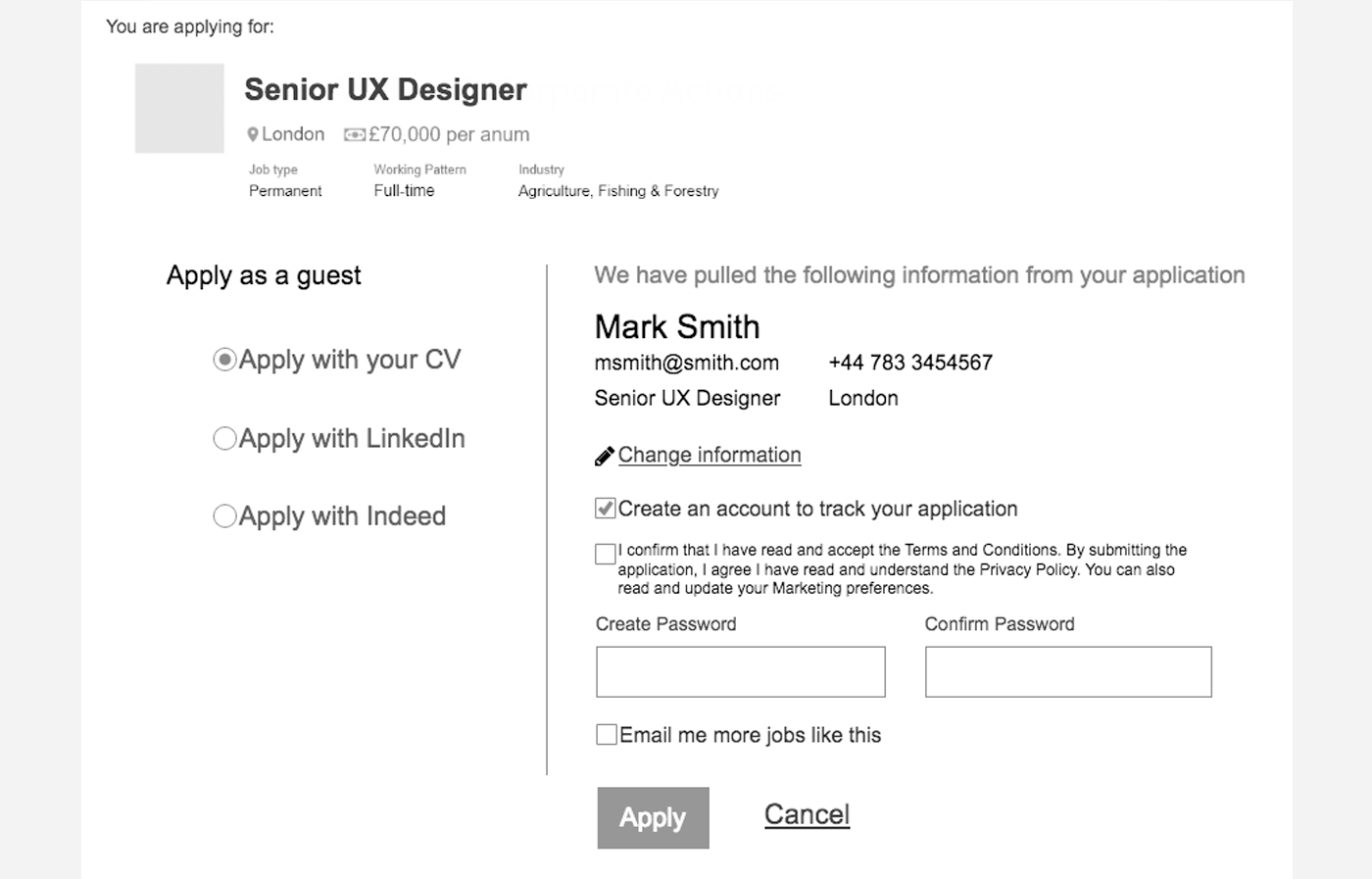 Job applicants who do not have an account with Hays are encouraged to create one. All the information needed to create the account is parsed from the uploaded CV so friction is greatly reduced by only requiring a password be entered.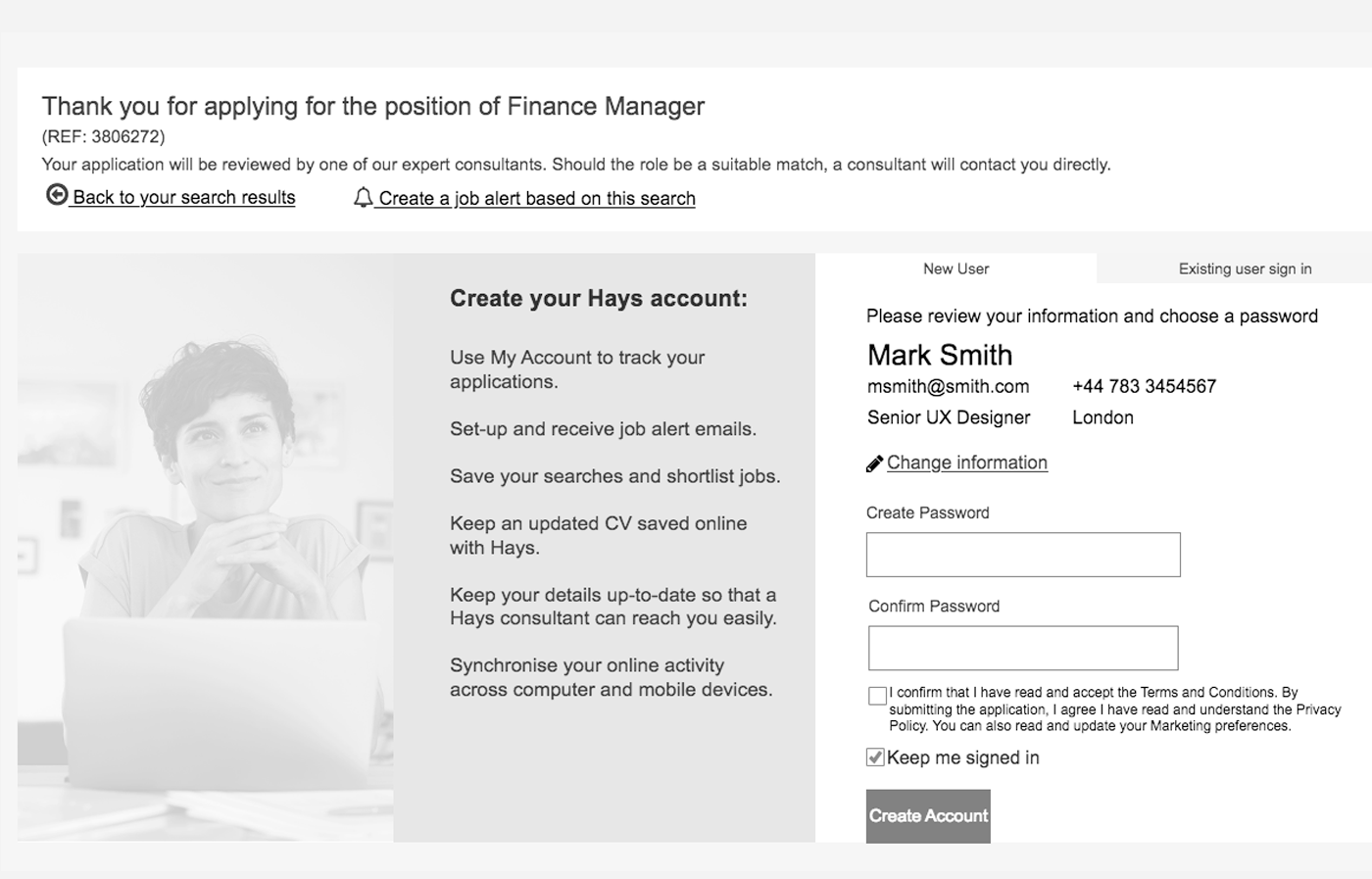 Users who have chosen to continue on the guest application journey are prompted a last time to either create an account or to login to their existing account.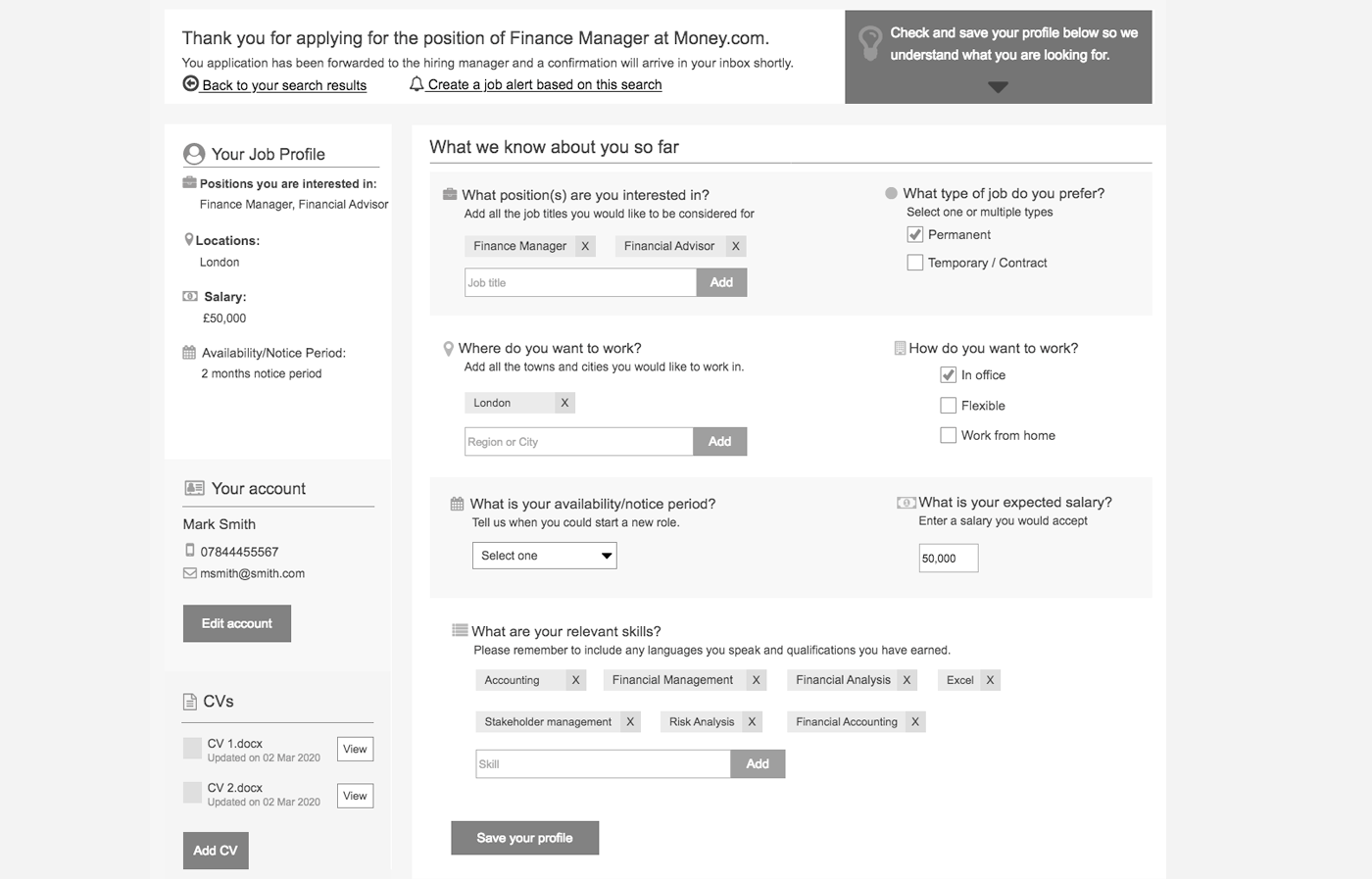 All job applicants are shown their account page with already collected information in their accounts. Addition questions are posed in order to learn more about the user. This data will be used to improve the suggested roles as well as personalise content.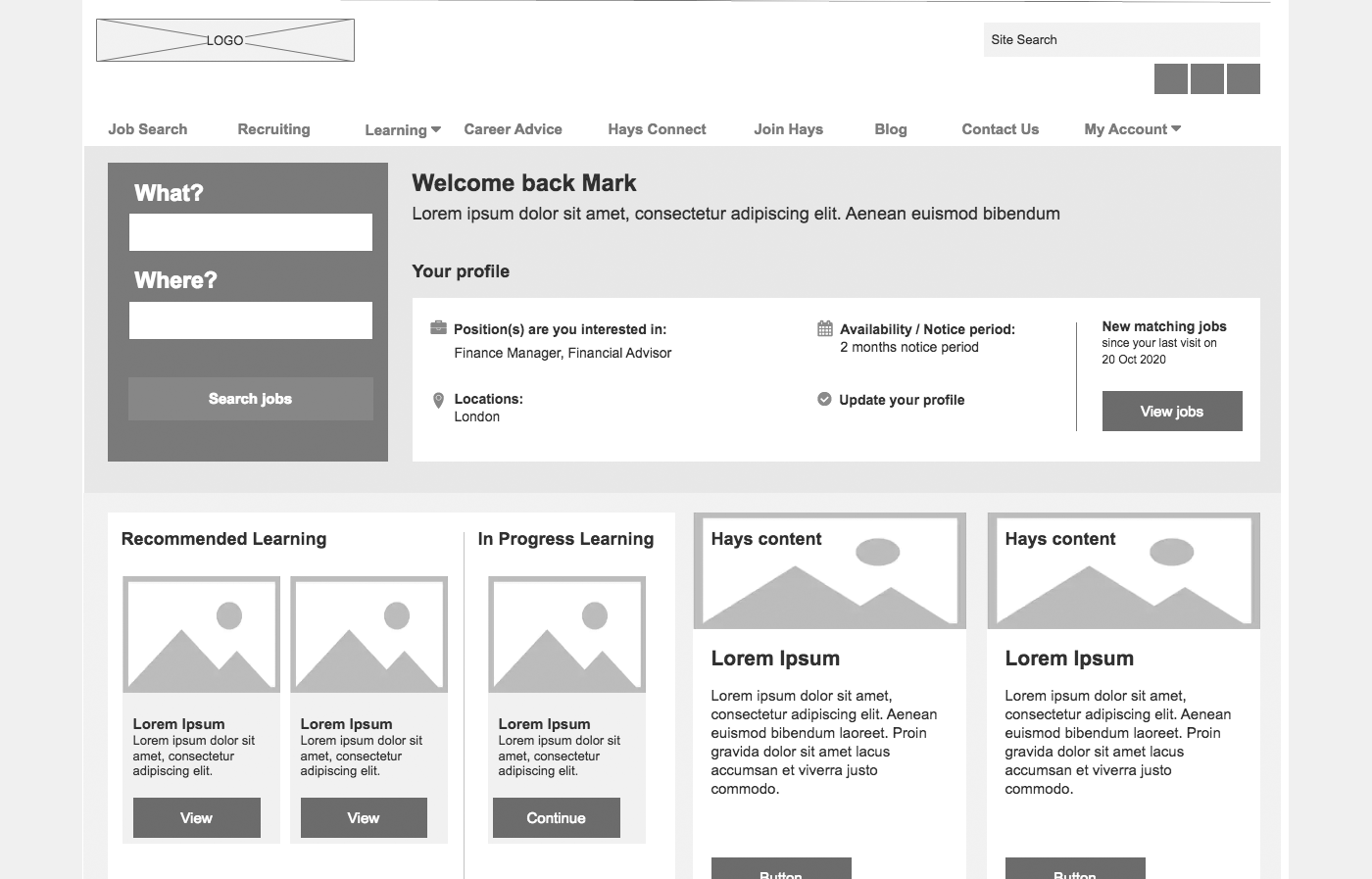 A new home page for logged in jobseekers was designed with personalised content.